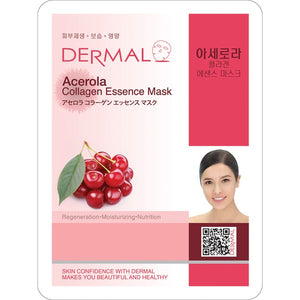 KBig Store
DERMAL COLLAGEN ESSENCE MASK - ACEROLA (10 Sheets)
Regular price
$9.99
$0.00
Unit price
per
DERMAL COLLAGEN ESSENCE MASK - ACEROLA (10 Sheets)

SKIN CONFIDENCE WITH DERMAL MAKES YOU BEAUTIFUL AND HEALTHY
•Regeneration •Moisturizing •Nutrition
 It is a simple sheet type essence mask offering your skin direct nutrition.
Compared to other masks, you can feel the difference immediately when using dermal collagen essence mask only once and it includes a high quality mask sheet which sticks to your face very well.
It contains Acerola Extract which is effective for skin clearness by removing horny parts of the skin and providing the skin Vitamin C thus it keeps your skin always clean and bright.
Vitamin E and collagen - It provides your tired skin nutrition and makes your skin healthy and bright.
When you put mask sheet on your face, it makes you feel cool and it keeps your tired skin elastic.
6.25 X 4.75 X 1 Inch / 16 X 12 X 2.5 Cm 10.55 Oz / 298 G
---